21-year-old Cory McKenna believes that she'll open up some eyes with a big performance in her UFC debut at UFC Vegas 14.
Cory McKenna is not your typical 21-year-old.
From humble beginnings in the Welsh valleys, which are a noted hotbed for fighting talent in a country which punches above its weight in prizefighting, to joining UFC Hall of Famer Urijah Faber's Team Alpha Male gym full-time in California and landing a contract in Las Vegas, it's been a whirlwind year for the spirited strawweight.
The Welsh fighter joined the UFC ranks in August after being awarded a contract by UFC President Dana White following her hard-fought unanimous decision win over Vanessa Demopolous in Las Vegas as part of Dana White's Contender Series, and she now makes her debut against Kay Hansen this weekend.
McKenna got the bug for martial arts when she joined her local karate club in pursuit of a hobby and worked her way up to purple belt and gained vital competition experience. Picking up one martial art at an early age, and having a rewarding experience, can often be the impetus for a teenager to experiment with other fighting disciplines. McKenna moved on to Muay Thai, BJJ and boxing and had decided to embark on an MMA career by the age of 13.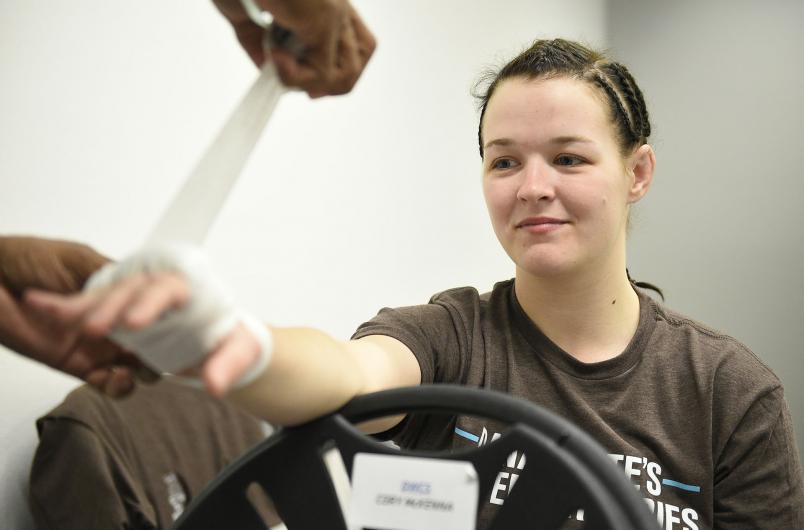 "I grew up in Cwmbran as a baby, and where my father was in the military we moved around a fair bit," said McKenna, who became the youngest British fighter to sign a UFC contract.
"Whilst based in Colchester, England, as a teenager, I found karate as a hobby and something to do whilst my dad was away. That was what sparked my interest and led to me delving into MMA before moving back to Cwmbran a few years later."
Most teenagers are consumed by endless career and life choices and what steps to take as they deliberate over potential professions, and often do so into their 20s, but McKenna had everything sussed out before she left school and has never deviated from her plan.  "I moved to BKK Fighters Gym in Colchester to pursue MMA at the age of 13, shortly after I knew that I had found what I wanted to dedicate myself to and that was MMA. To have a successful amateur career at such a young age certainly solidified my confidence in it being a plausible career."
When you have untapped talent and a dream, you need someone to nurture those precious abilities, and while on a family holiday in 2015, McKenna visited Team Alpha Male (TAM) Sacramento, California and connected with UFC legend Urijah Faber.
"I first visited TAM in 2015 as part of a holiday and in 2017 I went out for my first long camp, prior to my pro debut, and built great connections with the coaching staff. Being predominantly a professional gym, the accessibility to high level coaching and training partners, multiple times each day, really helped my training schedule and development. I am very grateful and aware of how fortunate I am to be here and have the team invest so much of their time into me."
Moving from the sprawling mountainous valleys of Wales to the fastest-growing major city in California, McKenna would be forgiven for being overwhelmed but, at her tender age, she has become comfortable with being outside of her comfort zone. "Coming to California has always been a goal of mine; I had already built great connections with my friends here and I plan to take every day as it comes and make the most of it." McKenna punched her ticket to join the sport's leading organization via the DWCS after White wrestled with the decision of whether to sign up the raw but clearly talented young fighter.
Wales' first female fighter in the Octagon was happy with her performance, which came on short notice, and is remarkably calm while recalling the greatest night of her young career.
"I was very proud to get a win over such a high-level opponent. I am trying to be less critical of myself but there was plenty of things to be worked on and that's what I've been doing over the past few months at TAM.
"Overall, my coaches were happy with my composure and performance on the night, given the circumstances."
British fight fans are no strangers to staying up into the middle of night to watch their charges fly their flag on the world stage and for a 21-year-old, the immense outpouring of support was such an empowering feeling that it galvanised her desire to grow and succeed in the Octagon.
"The support was enormous and startling, I spent the entirety of my Sunday and Monday post-fight just getting back to everyone. I really do appreciate all the support and hope to continue making people proud in my journey."
Looking ahead to fight night, "The Hobbit" believes her debut against Kay Hansen, who is also 21, could be the show stealer at the UFC APEX in Las Vegas.
"I think this fight has potential to be Fight of the Night material. I took the last fight on short notice and at a time where there were very few training sessions available in the UK due to the COVID-19 pandemic, and so now that I have been able to put a full camp in, I look forward to showing everyone what I am capable of."
McKenna believes her work ethic, of all her attributes, is what can set her apart from Hansen.
"Experience wise it is pretty even due to me having such an extensive amateur career and I don't really regard age as a factor that comes into play. I truly believe that I am the hardest working athlete in the division and have left no stone unturned, so I think my mentality and work ethic will give me all the edge I need."
Four of Hansen's seven wins have come by way of submission, but the UFC newcomer is prepared for every eventuality and is more than happy to go to the ground with her American rival.
"I also have a very heavy grappling base in most of my fights, which I feel is often overlooked. I don't necessarily plan to take it to the ground, but I am certainly not shy of it going there."
McKenna is aware of the column inches that her signing commanded both at home and abroad and some records that she set in the process, and that will only heighten in fight week, but the level-headed Welshwoman blocks that attention out and first and foremost has to fulfil her own expectations in the UFC.
"The only pressure I feel is what I put on myself," said McKenna.
"Those accolades about my age and where I'm from and what I'm doing are awesome but my eyes are set on that championship title, so there's still a long road to go and it starts on Saturday."