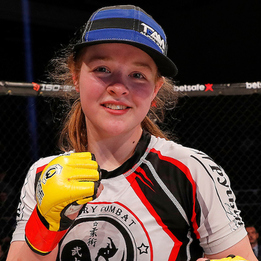 Cory McKenna
WIN
Climbed to 5-1
V
McKenna
Decision
Round 3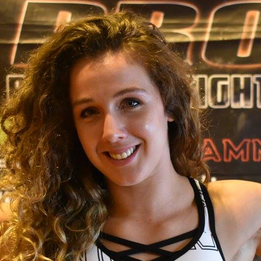 Vanessa Demopoulos
LOSS
Fell to 5-2
Inaugural LFA strawweight champion, Vanessa Demopoulos fought Cory McKenna in the third fight of the night. The fighters were standing toe to toe with McKenna appearing to be getting the better of the exchanges. McKenna landed a right hand that led to Demopoulos being dropped/falling on purpose as Demopoulos clearly has confidence in her ground game. She won the LFA title with a ridiculous inverted triangle. It was a weird round with McKenna clearly respecting the submission game from Demopoulos and getting put in a weird position where her neck was being cranked but McKenna was able to land a few shots and in my opinion, won the round.
McKenna came out and landed a couple of sharp right hands to start the second round. But just like the first round, Demopoulos somewhat fell to the canvas and McKenna took the bait and entered her guard. Demopoulos then sunk in a triangle attempt that transitioned to an armbar attempt but McKenna got out of it and started landing punches from the top. McKenna then took Demopoulos' back briefly but never threatened the rear-naked choke attempt.
Atancando con la sumisión @monster_demo #DWCS pic.twitter.com/x6FO3xIzRe

— ufcespanol (@UFCEspanol) August 12, 2020
Demopoulos started the third round with a cartwheel but seconds later, McKenna landed a big side kick and punch.
Hold up I need to do a cartwheel real quick... pic.twitter.com/0NYfFb2QQx

— ShayMyName (@ImShannonTho) August 12, 2020
Demopoulos tried to clinch but McKenna was having none of it. Eventually, McKenna got on top of Demopoulos and went to work like the first two rounds. Demopoulos went to work on an armbar attempt late but McKenna was able to avoid the submission. The two ladies got to their feet and started swinging at the end of the fight.
The judges scored the fight 30-27, 29-28, 29-28 for McKenna.
Demopoulos falls to 5-2 while McKenna improves to 5-1